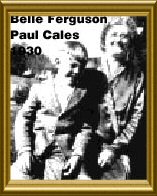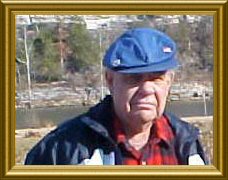 1930 2003
My mother was Melissa Ferguson Cales, b15 Sept 1891, Brownsville, TX
Her father was Beauregard "Bee" Ferguson, b28 Aug 1861, Choctaw Co, MS
Her mother was Belle Colwell Ferguson, b5 July 1863, Grapevine, TX
Bee's father was Wm. Elkanah Ferguson, b4 Nov 1817, Mecklenburg Co, VA
Bee's mother was Louvica Causey Ferguson, of Amite Co, MS
Elkanah's father was Wm. Ferguson, b5 Dec 1791, South Carolina
Elkanah's mother was Martha Ann "Patsy" McDaniel, d19 Feb 1845, nfi
William's parents were John Ferguson Jr, b 30 Sept 1749, d1850, and Mary Hill
John's parents were John Ferguson Sr and Mary Gill of Bedford Co., VA
This John's father was Moses Ferguson, Henrico Co., VA 1700-1750
Moses' father was Robert Ferguson, E. Lothian, Scotland . . .

Paul's mother, grandfather, and grandmother lived in Tarrant Co., Texas.
Paul is the Ferguson List Administrator, editor of the Bee Line for Clan Fergusson, and regional vice president of Region 5 of the Clan Fergusson Society of North America.