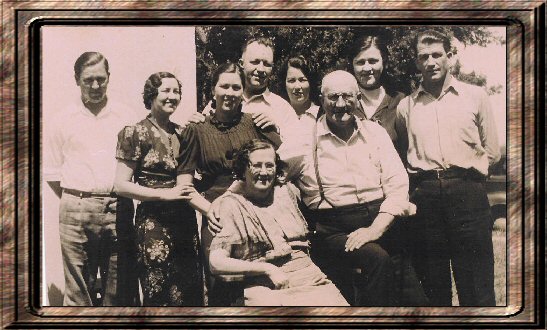 Ferguson Family Reunion - 1938
We don't know for sure where it was taken, just the date April 4, 1938, I can conjecture that this may have been taken in either Missouri or Hawthorne, California.  Jon, Marilyn Meador's brother, found a roll of film that never had been developed and this was one of the pictures. I met Jon Ferguson and Marilyn Meador about 3 years ago while researching genealogy on the internet. They are second cousins and Marilyn has become quite the adept genealogist although at times we work in tandem, this past year she has had to take the helm what with me getting pneumonia, then moving from Florida to New York.   
The older man and women in the very front are John Alexander Ferguson and Minnie Ann Ferguson and are the parents of everyone in the back row. John Alexander Ferguson was the son of John L. Ferguson and Nancy Lauretta Southerlin but as both his parents died young, they were taken in by the Southerlin family, Nancy's brother, William Thomas Southerlin.   
Left to right back in this picture: John, Mildred, Wilma, Elmer, Iva, Thayl & Jess.  
Jess Ferguson in the back row far right was my grandfather, nickname Skeezix. My family was big on nicknames back then.  Jess nicknamed his wife, Emma Walker, Skeeter. So Skeezix and Skeeter...what a pair.  Jess' son, Jess, was nicknamed Jinky and his other son Elmer was nicknamed Sonny. Iva's husband, George Cornford drove trucks and got the nickname Speed.  Marilyn's parents were called Jack and Mary but their names were actually John and Gertrude, so go figure!!!  
So what lesson did this give me but to make sure that I got my parents to write down their life stories.   Besides interesting data, it gave me an insite into my parents as well.  Who knew that my mother had such a wonderful way of viewing life or that my dad was such a brave man?   
Also as part of my data gathering when my parents had their fiftieth wedding anniversary in 2002, I threw a big party and invited alot of the relatives and taped them and had pictures taken of them.  I wasn't going to let my relatives get away without knowing a lot more about them!!!  My dad's cousin, Johnna (Ferguson) Sells gave as a gift to me at that party my great grandmother, Minnie's,  wedding ring. That truly brought tears to my eyes.  
Holly Ferguson 2003.