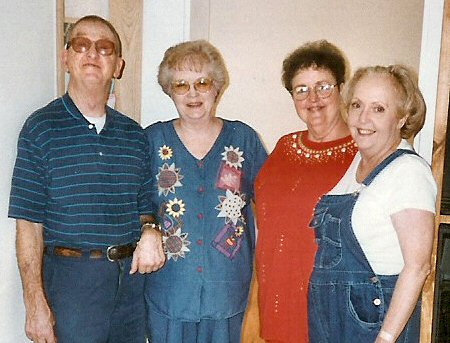 William Perry Clark          Kay Worthington 
                Mina Bickerstaff        Sharon Clark 



I am researching the family of Catherine GILMORE and William
FERGUSON who married 28 Oct 1793 in Albemarle Co., VA.  This is the
first record I have found for William Ferguson.  Catherine was the
daughter of Franky EUBANK and Joseph GILMORE of Albemarle Co., and
was born 9 Mar 1773.  I am also a descendant of her sister,
Elizabeth Gilmore, who married John WEATHERRED 13 Apr 1795 in
Albemarle Co.  The Weatherreds and other members of the Gilmore
family moved to Sumner Co., TN around 1800, and the Fergusons
joined them later.

The Gilmores lived in St. Anne's Parish, Albemarle Co., so this
makes me believe that William Ferguson did, too.  A James Ferguson
showed up on the St. Anne's Parish Tax Lists before William showed
up, so I believe he is in some way related to James.  I also
believe William had a brother, Daniel.  He and Daniel witnessed
the marriage of one of Catherine Gilmore's sisters.  There is also
a personal property mortgage between the two of them in Albemarle
Co.  Daniel married Elizabeth Thomas 29 Oct 1799 in Albemarle Co.
Daniel and William were the only Fergusons listed on the 1800 St.
Ann's Parish Tax List in Albemarle Co.

The obituary of their daughter, Frances "Fannie" Ferguson Spillman
stated that the family moved to Sumner Co., TN in 1808, and then
to Barren (later Allen) Co., KY in 1810.  William is listed on the
Barren Co., KY tax list for 1810, and Catherine is on the 1811
list.  Catherine is listed as head of household in the 1810 Barren
Co., KY census.  I'm told that William cut his knee with a broad
axe and died from the injury.  He left no will.  Catherine married
Benjamin Bailey, a local Baptist minister, 3 Nov 1815 in Barren
Co.  The part of Barren Co. where they lived (Walnut Creek) became
Allen Co., KY in 1815, and Catherine lived there until she was
almost 100 years old.

Catherine and William had 5, maybe 6, children that I am aware of.
Frances Ferguson Spillman was my 3rd g-grandmother.  She and her
family moved to Hickory Co., MO around 1850-1853, and she died
there 22 Feb 1859.  Three of William's children moved to Crawford
Co., MO: Elizabeth Ferguson Merritt, Obadiah Ferguson, and Rev.
William G. Ferguson.  Another daughter, Catherine, stayed in Allen
Co. and married Robert Durham.  The last child, Carey Ann
Ferguson, was born 10 Apr 1812, and I am not sure if she was
William's daughter or Benjamin Bailey's daughter.  The death
certificate of one of Carey's daughters shows that Carey's name
was Carey Bailey, but there is a newspaper article telling of
Carey's 60th wedding anniversary, printed in one of the Allen Co.,
KY newspapers, that states her parents were Catherine and William.
Carey Ann married Andrew Jackson Richey, and they also remained in
Allen Co.

There were other Ferguson families in the northern part of
Albemarle Co., but I don't believe my William was related to them.
I would love to find a male FERGUON descendent of William who
could participate in the Ferguson Family DNA study.  I think
that's the only way I will ever discover who William's father was.
If anyone can help me with this family, I will be forever
grateful.